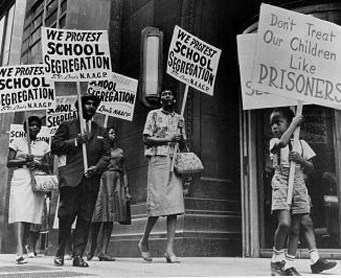 In the wake of Charleston and other Black deaths at the hands of police, it seems more important than ever that our kids learn civil rights history.  Our children should know this history; not only because it helps to put recent events into context, but it also speaks to survival, hope and the courage of ordinary people, in particular, young people, to make change happen.  History shows that in many cases it was students who were on the front lines of the 60's civil rights movement, displaying extraordinary courage, resiliency and leadership in the face of violent threats and actions.
This summer as you are considering vacation or leisure plans, think about carving out some time to explore the civil rights landmarks where you live or where you visit.  (Charles E. Cobb's book On the Road to Freedom—A Guided Tour of the Civil Rights Trail has some good suggestions.)  Many of our major cities also have museums that help tell the civil rights story.  If you are not planning to travel or live in a location where there are no local landmarks, watch a film with your kids about the civil rights movement and talk to them about it.  Some good videos are the PBS series Eyes on the Prize and Stanley Nelson's American Experience: Freedom Riders.
Now is an especially good time to share your views and hear your children's thoughts about the civil rights struggle.  Hopefully they like the young people before them will help to define the path forward.
If you have some suggestions on places to visit and things to give kids a better understanding of civil rights history, please share them with other Beccastone readers by posting a comment.